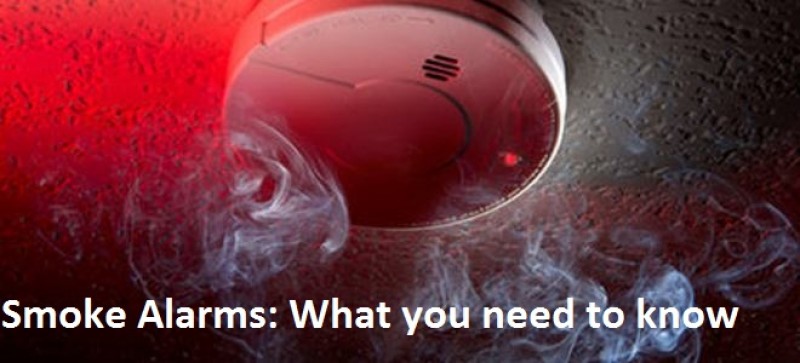 The 1st October 2015 meant the addition of important legislation regarding smoke alarms in rented properties which is thought will help to prevent around 26 deaths and 670 injuries from fire and smoke inhalation per year. The statistics say you are four times more likely to die in a fire in the home if there is no working smoke alarm, however our branches report that many tenants leave smoke alarms without their batteries, with their covers hanging off and often fail to test them or report them when they are not working. A year and half on from when the Smoke and Carbon Monoxide Alarm (England) Regulations 2015 were introduced, please see below the information you need to know as a tenant to ensure your safety in your rental property
You should have a smoke alarm on every floor
All rented properties should have a working smoke alarm fitted on every floor. If your home is on one level, the fire service reports that your alarm should be in the hallway between the living and sleeping areas. If you have two floors, there should be one in the downstairs hall way and one in the upstairs hallway on the ceiling at the top of the stairs leading to the bedrooms.
When determining a storey or room, a bathroom is to be treated as a room used as living accommodation. As a result, a half landing containing a bathroom or toilet alone would be counted as a storey and require a smoke alarm. Where there is a mezzanine floor which is just used for access only, it is likely this will not be counted as a storey.
Carbon monoxide alarms should be fitted if you have solid fuel appliances
A carbon monoxide alarm is required in any room of the premises which is used wholly or partly as living accommodation and contains a solid fuel burning combustion appliance. A solid fuel appliance would be an open fire or a log burning stove. However, a non-functioning purely decorative fireplace would not constitute a solid fuel burning combustion appliance.
Your landlord or agent should test that they are working on the first day of your tenancy
For each new tenancy beginning on or after 1st October 2015, landlords must check that the required alarms are in working order on the first day of each new tenancy. The first day of the tenancy is the date stipulated in your tenancy agreement, even when you decide to actually move into the property on a later date.
You should regularly check them during your tenancy to make sure they are working
After the landlord's test on the first day of the tenancy, tenants should take responsibility for their own safety and test all alarms regularly to make sure they are in working order. Testing monthly is generally considered an appropriate frequency for smoke alarms so you should diarise to carry this out. A general test would be pressing the test button on the alarm but you can also purchase specialised smoke sprays to test the alarm sounds correctly if you wish.
If your smoke alarm is not working or bleeping, you should report it to your landlord or agent immediately
If you find that the alarm is not working, then your first stop should be to try to replace the batteries in the first instance, this would be your responsibility as a tenant. If replacing the batteries doesn't work, then it is also your responsibility as a tenant to report it to your landlord or agent in order for them to obtain a replacement. If the alarm is bleeping, report this to the relevant people, do not just take the batteries out and forget about it, it's your safety that could be at risk.
Angharad Trueman - Operations Manager